Hello my dear anime lovers, I hope everything is going well, and anime continues to make you happy.
If you've been online at all in the past few weeks, and have an interest in anime, you've probably seen some posts on Castlevania, even if you haven't seen it yourself.
It's a Netflix Original anime, and Season 3 just came out recently, and since I just finished it last night, we're gonna review it.
The Story so far…
This season was a bit slower for the Castlevania story. It wasn't as fast paced as the first two seasons.
Dracula is dead, so our focus is on the Vampire alliance, the Belmont duo, and Alucard.
Alucard doesn't do much, but he is a great example of social distancing! His focus is on training the siblings, and interacting with humans again now that he is awake.
The Vampire alliance is a bit slower too. They're into the scheming and planning their next steps for subjugating the human race, so not a lot of action from their end.
Belmont et al. are the primary focus, and I liked the mystery they were trying to solve this season. It was a nice change from the constant fighting, though we get plenty of that still, don't worry!
---
Who's who?
I don't think any of the new characters really stood out this season. We got St. Germain, but I wasn't a fan of him. He seemed to be too much like Trevor Belmont for my liking, but somehow worse.
Getting to explore the Forgemaster's stories was nice. They had been introduced before, but they were background characters. We didn't get the depth that we did this season.
---
The Battles: WOW
In 10 episodes, we probably get 3 or 4 BIG fights, but the battle at the end makes it all worth it.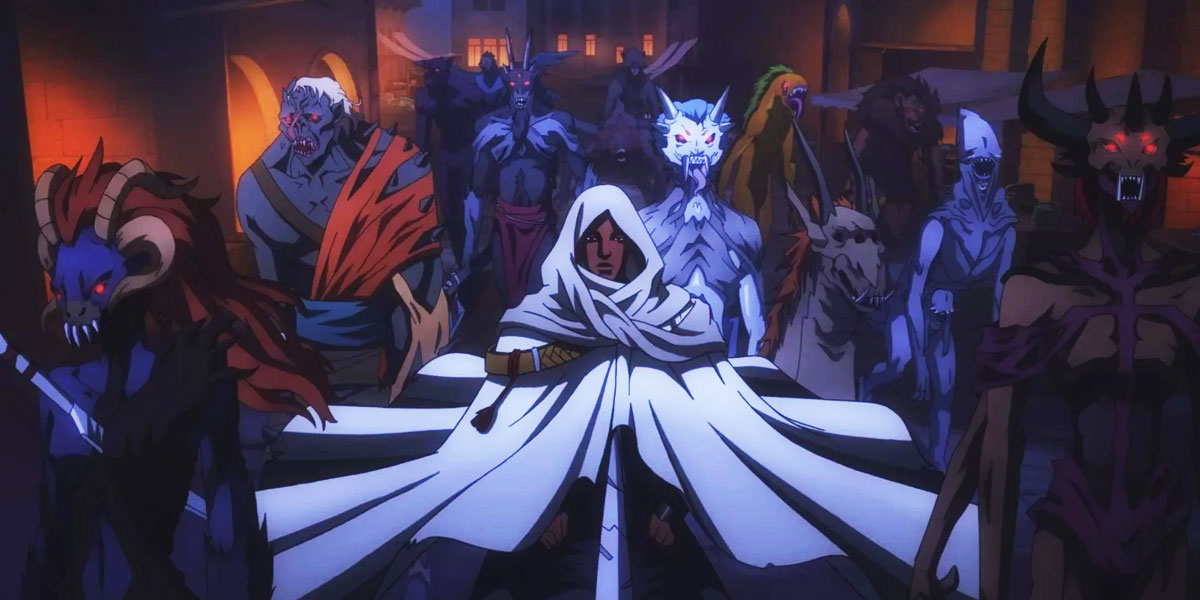 It probably sounds pretty stupid, but I have a new appreciation for whips. Seeing a whip being used in this season, and sometimes two whips at once, has actually been really cool.
You don't often see whips being used at all, and when they are it's usually a slave master or something. They are an under appreciated weapon, that I really want to see more of now.
---
What's next for Castlevania?
Obviously we don't have an ending to the story yet. We will be (hopefully) getting more Castlevania.
I think with the next season, we will get a battle with Trevor and the Vampire Alliance. The battle built up this season, and I think next season will see the two sides clash.
We will also probably get more Alucard fights, in his slow descent into evil…turning into Dracula.
We don't know when Season 4 will be out, but I know I'll be watching it the moment that it does.
---
Have you seen Castlevania Season 3? Let's talk about it in the comments or on social media.
Goodreads | Facebook | Twitter | Instagram